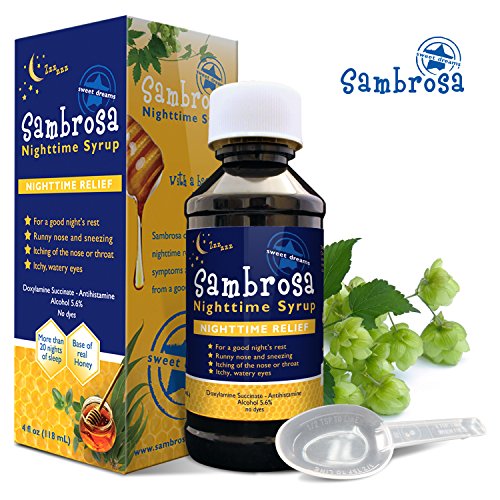 Sambrosa is A Healthier Way For Nighttime Allergy Relief! We start with the highest quality ingredients and create a unique blend of honey and organic herbs combined with active ingredient Doxylamine that relieves allergy symptoms and cough and helps you get a good night sleep. Similar to Nyquil, Tylenol PM and Mucinex but with healthier ingredients you can feel good about. When using Sambrosa Nighttime allergy medicine, carefully read the label. Use as directed. Keep out of reach of children under 12. Alcohol 5.6%.
A HEALTHIER WAY FOR NIGHTTIME ALLERGY / COUGH RELIEF: Our proven blend of real honey and natural herbs combined with active ingredient Doxylamine (9.75mg per dose) provides a healthier alternative to getting you a good night's sleep. Sleep is one of life's great pleasures, don't let allergies keep you up at night. Compare to NyQuil, Mucinex or Tylenol PM.
OUR FAST ACTING LIQUID RELIEVES ALLERGY SYMPTOMS SO YOU CAN SLEEP: When allergy symptoms are keeping you up at night, when you're tossing and turning and you just can't fall asleep, try our fast acting liquid allergy medicine that makes sleep ready when you are.
MADE IN THE USA: Our product was developed in the Netherlands and perfected in the USA. We provide only the finest ingredients and are proud to say we are "Made In The USA" in our cGMP facility. We are non GMO certified and FDA compliant.
NATURAL TASTE: Our Nighttime Allergy Relief does not contain any high fructose corn syrup or artificial flavoring or coloring. Our ingredients consist of honey, aniseed oil, California poppy, hops, passionflower, thyme, tragacanth and eucalyptus. Natural ingredients you can feel good about!
100% MONEY BACK GUARANTEE: We are so confident that you will fall in love with our nighttime allergy medicine that if you are not satisfied for any reason, feel free to return it within 30 days with a no question money back guarantee. We guarantee your good night's sleep!