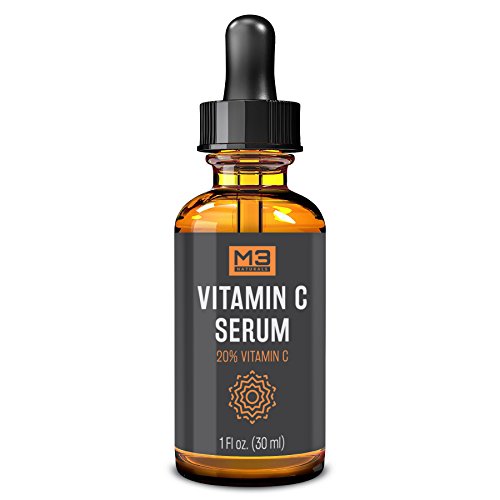 M3 Naturals Vitamin C Serum makes skin brighter, tighter, smoother and clearer. It will quickly become your go to product for radiant, youthful skin.
M3 Naturals potent blend of Vitamin C, Hyaluronic Acid, and Vitamin E is gentle, yet highly effective at reversing the effects of time and environmental damage.*
M3 Naturals blend is uniquely stable and bio-available form of Vitamin C that stimulates collagen, reduces wrinkles, brightens skin, fades age spots, and evens out your skin tone.*
Our customers report that our Vitamin C Serum helps to clear up and prevent breakouts, shrink pores, and minimize the appearance of acne scars.*
M3 Naturals uses a non-irritating formula great for all skin types, sensitive and dry skin.*
M3 Naturals offers a 60-Day Money Back Guarantee.
Your Skin Will Thank us Later!
REDUCES FACIAL BLEMISHES – This Anti-Wrinkle Serum offers the best way to fight blemishes on the skin, signs of aging, wrinkles, fine lines, hyperpigmentation, and sun spots*
HELPS REDUCE WRINKLES*, refine skin texture, and fade acne scars/discoloration*
ANTIOXIDANT OVERLOAD* – Vitamin C provides your skin with the antioxidants it needs to defend itself from the aging effects of invisible aggressors like pollution and harmful UV rays that are keeping you from achieving your healthy radiance*
RADIANT AND YOUTHFUL SKIN* – Guaranteed to leave your skin radiant and more youthful looking, by neutralizing free radicals.*
PREMIUM QUALITY MATERIALS: M3 Naturals prides itself on sourcing every ingredient from the purest forms. Through our products, we are committed to offering the highest-quality and most effective beauty products at an affordable price. Our Vitamin C Serum is carefully formulated with the most natural and pure ingredients available.*