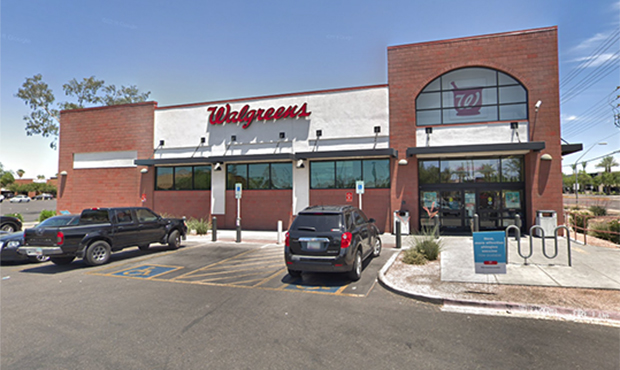 (Screenshot)
This guy should be easy to recognize.
"What's really going to stand out is the mustache," says Phoenix Police Sgt. Jamie Rothschild.
The man walked into the Walgreens at Southern Avenue and Alma School Road in Mesa at about 4:30 p.m. on Nov. 11. He headed straight for the pharmacy.
"He was trying to act pretty casual," says Rothschild, "and it's possible people didn't know what was going on. But he gave a note to the clerk and demanded Oxycodone," a highly addictive pain medication.
After getting several containers of the drug, the suspect left the store and headed north on foot.
Read more about this case here.
Next, you do everything right and you still get ripped off. Our victim was at the gym at 50th Street and Ray Road on Nov. 16.
He didn't leave his valuables in his car to get stolen; instead, he locked them up in a locker.
Rothschild says, "At some point, someone cut the victim's lock off his locker and took his wallet. Forty-five minutes later, the suspect used the victim's credit card to purchase $ 2,500 worth of Apple products at a Best Buy store. Later, the guy tried to make another purchase but the card was declined because it was reported stolen."
We don't know if the guy caught on video surveillance using the stolen card is the same person who stole it, but Rothschild says the simple act of possessing or using a stolen credit card is a felony.
Read more about this case here.