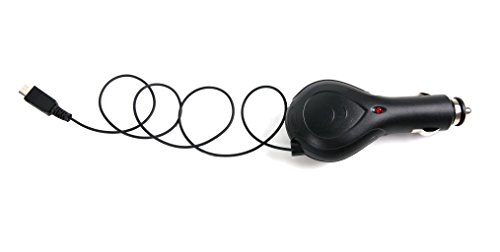 Introducing DURAGADGET's brand new and exclusive, premium quality in-car charger for your smartphone – the perfect accessory to accompany you whilst you're commuting, popping to the shops or embarking on a long journey.
Lightweight, contoured and ultra-portable, the latest charger to join our range of electronics accessories is both slim and compact in design and allows for non-obtrusive use in the car. The charger simply slots into your vehicle's cigarette lighter socket for fuss-free charging whilst on the go. A standard micro USB fitting then connects to your compatible device via a retractable data cable – ideal for adjusting or minimizing the length of the cable at any time.
As we design all of our products with quality and safety at the forefront of our minds, we've built the charger with the essential built-in fuse security and reverse circuit protection, designed to eliminate risk of overcharging your device.
SPECIFICATIONS – input: DC 12V~24V | output: 1A-5V | CE and RoHS certification.
DURAGADGET® lightweight, contoured and ultra-portable in-car charger for your brand new smartphone
Slimline and compact in design, our charger simply slots into your cigarette socket for fuss-free charging on the go
A standard micro USB fitting connects to your device via the retractable data cable – perfect for non-obtrusive use whilst you're in the car
Built-in fuse security and reverse circuit protection eliminates the risk of your device overcharging, whilst CE and RoHS certification adds security
Specifications – input: DC 12V~24V | output: 1A – 5V