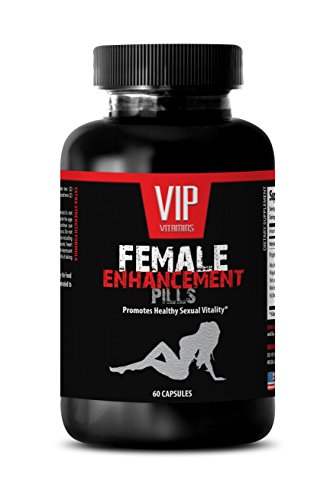 Horny Goat Weed Extract – FEMALE ENHANCEMENT PILLS – Sexual enhancer for women (1 Bottle 60 Capsules)
Horny Goat Weed Extract Epimedium, also known as horny goat weed, enjoys over 2,000 years of use and a colorful folk heritage. The plant was reputedly a favorite of the sexually active yin yang, a mythic creature which enjoyed one hundred orgasms a day.
Horny Goat Weed for Women So far, we've focused mainly on the effects of horny goat weed on men, but the supplement may have benefits for women, too. The supplement is reported to help men raise their sex drive, and it might affect women's desires as well.
Boost flagging libido and juice up your sex life Horny goat weed is a genuine sex-enhancer, a time-tested aphrodisiac that increases libido in men and women, restoring sexual fire, allaying fatigue, and alleviating overall mood and well-being.
Rediscover yourself and your partner If you haven't felt frisky of late and it's causing frustration in you and your partner, then perhaps it's time you turned to Horny Goat Weed. Experience the effects of this safe and natural – yet potent – aphrodisiac as it awakens desire, boosts sexual stamina and erectile power and performance! Rediscover your lost libido, recapture that sexual energy you shared, and enjoy the mutual satisfaction of a healthy sex life – courtesy of Horny Goat Weed in connection with powerful herbs.
FEMALE ENHANCEMENT PILLS: a unique botanical formula of premium Horny Goat Weed Extract and a proprietary blend of powerful and potent herbs – Maca, Macuna Pruriens, Tongkat Ali, Saw Palmetto, Muira Puama and Panax Ginseng.
HORNY GOAT WEED EXTRACT: or Epimedium – native to traditional Oriental medicine, which has used epimedium for centuries as a natural aid for both physical and sexual vitality.
HORNY GOAT WEED FOR ACTIVE LIBIDO ENHANCEMENT: Ladies using epimedium (horny goat weed extract) experience sexual enhancement boosting effect. It works with your body through improved blood flow causing full body arousal and promoting extra sensitivity.
HEIGHTENED SEXUAL ANTICIPATION: Our special formula uses potent and effective herbal ingredients tailored specially for women to promote heightened sexual anticipation. With regular use, it may result in more intense and pleasurable orgasms.
FEMALE ENHANCEMENT PILLS: (Each Bottle 60 Capsules) Guaranteed Maximum Potency. Each VIP VITAMINS formula is scientifically standardized to the highest level of active principles. Made in U.S.A. 30-day 100% money back guaranteed.