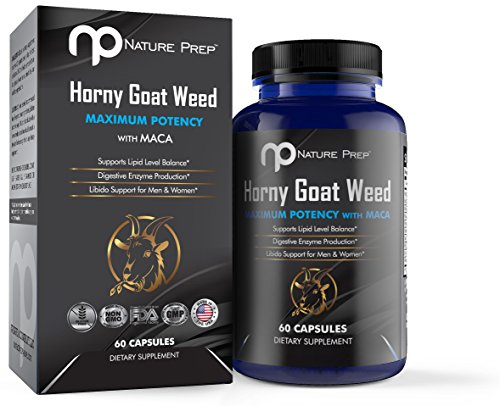 Why Nature Prep's Horny Goat Weed?
Horney Goat Weed, scientific name: Epimedium grandiflorum, is traditionally used to increase sex drive, but it is also used to treat kidney disorders, as joint and liver support, help prevent osteoporosis, boost brain function and more.
Used for centuries and infertility in men, Horney Goat Weed extract c
Performance Enhancement
Several independent studies have shown that Epimedium found in Horney Goat weed can effectively raise the level of testosterone hormones, it also improves blood circulation, helping you improve physical performance and increase energy levels.
Boost Your Sex Drive
Icariin, the compound found in Horny Goat Weed is proven natural testosterone booster, testosterone is a key hormone and libido enhancer in men, in addition it is believed that it can also have aphrodisiac effects.
It also contains another vital compound called desmethylicaritin, an element believed to be responsible for boosting estrogen production in women, thus improving female libido as well.
Made in USA
Nature Prep Horney Goat Weed is 100% Made in USA, in an FDA approved factory, under the strictest GMP guidelines.
FDA Disclaimer
*These statements have not been evaluated by the Food and Drug Administration. This product is not intended to diagnose, treat, cure or prevent any disease.
Introductory Price! Add Nature Prep Horney Goat Weed to Cart Now!
PERFORMANCE ENHANCEMENT – at 1000 mg per capsule Nature Prep's Horny Goat Weed is one of the most powerful 100% natural performance enhancing supplements available.
BOOST YOUR SEX DRIVE – Horny Goat Weed extract has been used by traditional Chinese medicine for centuries as libido enhancer, fatigue, pain and other conditions.
GET YOUR YOUTH BACK – boost sexual performance, increase your testosterone production, get longer, harder erections, improve your fertility, stop osteoporosis, improve brain function.
MADE IN USA – ALL Nature Prep products are 100% Made in USA, in an FDA approved factory, under the strictest GMP guidelines.
ERECTILE DYSFUNCTION PROBLEMS? – Epimedium, one of the most effective erectile dysfunction treatments is an active compound found in Horny Goat Weed extract, it blocks the effects of Phosphodiesterase inhibitor, an enzyme that restricts blood flow to the penis thus helping to prevent erectile dysfunction and increase fertility.