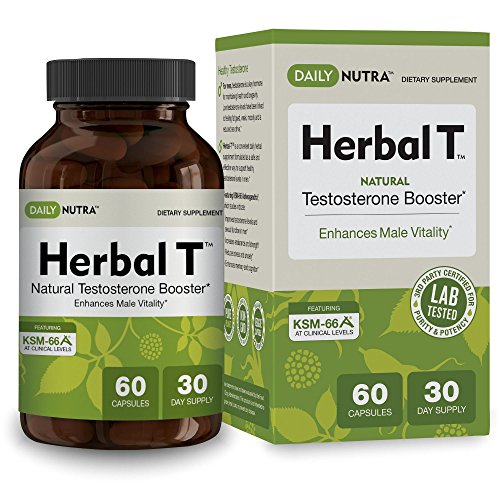 Herbal T Natural Testosterone Support and Male Enhancement Supplement
This extra strength male performance supplement contains potent plant concentrates that support the bodyÕs ability to produce testosterone, which can provide increased strength, stamina and male enhancement when combined with regular exercise and a healthy diet.*
Testosterone is Key to Men's Health
Testosterone is a critical hormone for healthy men. Lifestyle choices such as lack of exercise, an unhealthy diet or smoking can lead to abnormally low testosterone levels. If levels are too low, men can experience decreased libido, reduced energy, loss of muscle mass, sleep problems, loss of focus and even depression. Maintaining healthy levels of testosterone is key for menÕs long-term health.
Safe and Effective Solution
Herbal T is a convenient daily herbal supplement formulated to be a safe and natural way to support healthy testosterone levels for men.* With a healthy diet, regular exercise and appropriate nutritional supplements, it is possible to maintain and raise testosterone levels naturally without hormone replacements, steroids or synthetics.
100% Plant Concentrate Ingredients
American Ginseng, Organic Cordyceps Mushroom, Longjack, Siberian Ginseng, Horny Goat Weed, Tribulus Terrestris, Hawthorn Berry, and Organic Ashwagandha
CLINICALLY SHOWN TO BOOST HEALTHY TESTOSTERONE LEVELS – KSM-66 Ashwagandha, Tribulus, and Cordyceps support healthy testosterone levels which are critical to men's health. Healthy testosterone levels help boost energy, lean muscle mass, and a healthy sex drive.
MALE PERFORMANCE ENHANCEMENT – Horny Goat Weed and Longjack (Tongkat Ali) increase male performance and stamina by increasing circulation and sensitivity.
ENERGY AND ENDURANCE – American Ginseng and Siberian Eleuthero provide boosted energy, anti-fatigue, anti-stress, and increased mental clarity. English Hawthorn Berry reduces blood pressure and can reduce the risk of heart failure.
PURE PLANT CONCENTRATES – Made from 100% herbal plant concentrates: No fillers, no drugs, no hormones, no steroids, no synthetics. Each 1600mg serving (2 pills) is packed full of premium ingredients of the highest potency available. Our capsules are vegetarian vegan, and non-GMO. They are preservative free, allergen free, gluten free, sugar free and starch free.
100% SATISFACTION GUARANTEED Ñ We are so confident in the integrity and potency of our products, we offer an unconditional money back guarantee if you do not get the results you expected. Thanks for considering DailyNutra.