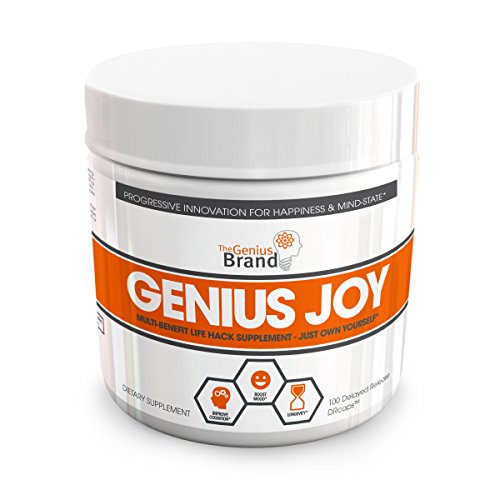 The Smart Nootropic Mood Enhancer – Just Own Yourself
Life centers around one's happiness. Remove all external factors & one's self worth and level of satisfaction universally centers around one thing, happiness or to take it even further… dopamine!
Sure, you just got your secret crush at the gym's phone number or you got that new promotion at work, your self-worth is through the roof and you're extremely happy but when you break down the fundamental chemical process in your brain, these events simply triggered a natural boost of serotonin and ultimately more dopamine! It enables greater motivation, a better attention span more energy and just general better overall all state of wellbeing. You work harder, you're in a better mood and overall you're just a nicer person!
But what about the flip side of that.. You get dumped! Or Fired! Dopamine levels go down. You may feel defeated, unmotivated or even worse, genuinely depressed. Depression is simply a function of seriously low dopamine and if it was a choice, wouldn't you say no?
With the proper mindset, you could learn from every failure and in sequence, never actually lose. With proper management and respect for serotonin levels as they relate to anxiety and general wellness, it becomes easier to turn losses into lessons and grow through experience!
Genius Joy was formulated to be the natural cheat code. The head start to everyday success. It's all about the right mindset! NEVER DWELL ON A LOSS.
Genius Joy is the first of it's kind!
Every single ingredient is backed by research to serve a true purpose & make a lasting difference. It's an alternative to stimulant based prescriptions that doctor's pass out like candy nowadays! Get nootropic performance, stress relief and natural anxiety relief instead of turning to antidepressants and anti anxiety medications!
Be a Better You. Always.
INGREDIENTS
Serving Size: 4 Delayed Release Veggie Capsules
Servings Per Container: 25
Amount Per Serving
Vitamin B Energy Complex
Vitamin B1 (as Thiamine HCL) – 1.5mg
Vitamin B2 (as Riboflavin 5 Phosphate) – 1.7mg
Vitamin B3 (as Niacinamide) – 20mg
Vitamin B5 (as D-Calcium Pantothenate) – 10mg
Vitamin B6 (as pyridoxal-5-phosphate) – 2mg
Vitamin B12 (as methylcobalamin) – 6mcg
Vitamin D3 (as cholecalciferol) – 1000IU
S-adenosylmethionine (SamE) – 1000mg
N-Acetyl L Tyrosine – 350mg
Rhodiola5Plus Rhodiola rosea [root](std. 3% Rosavins and 2% Salidrosides) – 300mg
Red Panax Ginseng Powder – 250mg
HTPurity 5-hydroxytryptophan Griffonia simplicifolia [seed] (Std. 98% 5-HTP) – 100mg
Neuro Factor Coffea Arabica [Fruit] Extract – 100mg
TheaKalm Natural L-Theanine – 100mg
Life Hack Nootropic Serotonin Booster; Formulated with sam-e, rhodiola, ginseng and 11 more focus boosting vitamins and minerals for mood support and anxiety relief; Genius Joy was meant to a be a cheat code for finding yourself
Focus, Energy, Wellness and Cognitive Function; Replace antidepressants & clear brain fog with a more natural approach, professionals, athletes, gamers and everybody in-between can benefit from this serotonin booster
Natural Antidepressant Approach; Prescription pills come with more side effects than solutions, Joy includes a handful of clinically backed aids against depression; s adenosylmethionine. 5-HTP and b vitamins are key
Natural Dopamine Stack with Anxiety Relief; Getting a daily brain boost is great but anxiousness can undermine great nootropics, without anti anxiety support, you'll be susceptible to the detriments that stress brings
Vitamins for Stress Relief and Wellness; Joy features a unique vitamin complex with b12 and vitamin D, coupled with pure l-theanine to further reduce mental and physical while stabilizing mood, Joy has it all