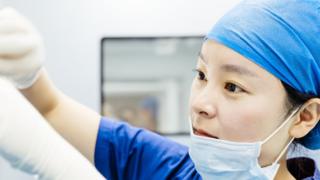 Senior ethnic minority doctors in the NHS are paid less than their white counterparts, research suggests.
A study in the British Medical Journal found black and minority ethnic (BME) consultants on average earned 4.9% less than white colleagues in basic pay – roughly £4,600 a year.
The gap was much smaller across other types of doctors and grades.
Researchers said the causes of the pay gap for consultants needed to be further explored.
The report found a small difference in basic pay – which does not include extra pay for over-time and working anti-social hours – between white doctors and those from other ethnic backgrounds across all types and grades.
While the the lack of a significant pay gap for most doctor grades was encouraging, the differences at consultant level warranted further investigation and explanation, said report author John Appleby, chief economist at the Nuffield Trust think tank.
Average basic pay for white consultants was higher than all other ethnic groups – varying from about 3.5% higher than black consultants, to more than 6% higher than mixed or dual-heritage consultants.
Mr Appleby said one possible reason for this was that white consultants tended to be older, which suggested they might be better paid because they were more experienced.
But he added: "However, there will be other explanations too – some warranted, others not so much. These, as with the gender pay gap, are worth investigating further."
However, Dr Chaand Nagpaul, from the British Medical Association, said the study showed that BME doctors faced "unacceptable barriers, penalties and discrimination in the NHS".
He said: "It cannot be right that in 21st-Century Britain there are such wide gaps in pay between white and BME doctors in senior posts when, irrespective of their background, they hold positions to deliver the same care to patients.
"The government and the NHS must take this issue seriously and tackle all forms of discrimination within the health service."
The study's findings are based on basic pay data from the NHS electronic staff record for the month of December 2017, for doctors in England directly employed by the NHS.
This was combined with doctors' self-identified ethnicity category.
A Department of Health and Social Care spokeswoman said: "The prime minister launched the Race Disparity Audit last October for this very reason – to examine how people of different backgrounds are treated across all areas of life, and to tackle the injustices that hold people back.
"We have commissioned our own data on ethnicity pay, to identify where the biggest gaps lie in the workforce, and will shortly announce robust plans to tackle these challenges head on, and as part of our long-term plan for the NHS to support the workforce to progress their careers."