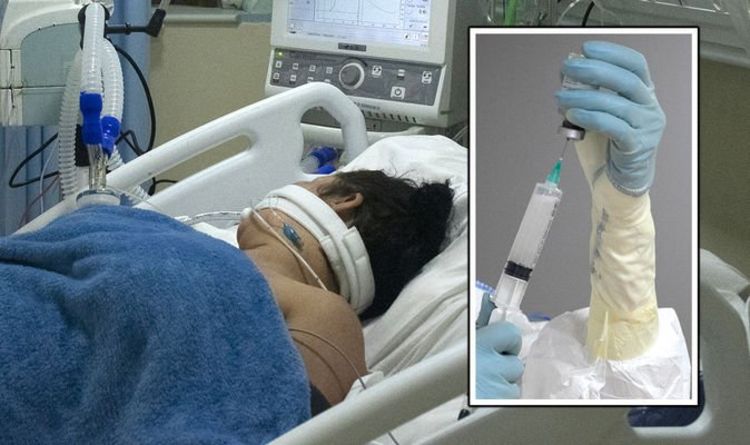 Coronavirus has killed more than 40,000 people in the UK, with the number continuing to rise. But, scientists have made a breakthrough in the search for a COVID-19 vaccine.
The NHS has been backed to immediately use the dexamethasone steroid as a treatment for coronavirus.
The drug has been revealed to lower the risk of coronavirus death by as much as 35 percent in patients on ventilation.
The government has started to secure extra supplies of dexamethasone, with enough treatment available today for up to 200,000 people.
Health Secretary of State Matt Hancock has thanked the Oxford University scientists for their breakthrough.
READ MORE: Coronavirus latest – scientists reveal 'breakthrough' treatment
Dexamethasone is an anti-inflammatory drug that's relatively cheap to produce.
Coronavirus patients that are currently on oxygen, including ventilators, will be given dexamethasone as a treatment from today.
It comes after the Oxford University RECOVERY trial became the first clinical trial to find a significant treatment for COVID-19.
The research is yet to be peer-reviewed, but Deputy Chief Medical Officer, Professor Jonathan Van-Tam, has admitted that the findings were "very encouraging".
Professor Van Tam said: "The RECOVERY trial is an outstanding example of the UK leading the world with an impressive study capable of delivering robust answers to critical questions. Although these data have not yet been peer-reviewed.
"On the dexamethasone findings, this is very encouraging because the signal on reduced mortality applies to many of the patients admitted to hospitals and the drug is comparatively low priced and available worldwide.
"The positive findings on dexamethasone follow the disappointing findings on hydroxychloroquine. Together these two results illustrate the power of properly conducted clinical trials and the inherent danger of assuming things work without robust data.
"Whilst tempting to do otherwise, it is always better to wait for the evidence."
During the daily press briefing at Downing Street, the Chief Scientific Advisor, Patrick Vallance, welcomed the research findings.
But, he insisted that more work is still needed to build on these breakthrough findings.
"This is the first medicine that's been proven to reduce death in any group with COVID," said Vallance.
"This is the start of something important. It shows it is possible to reduce the inflammation and outcome of those in hospital."