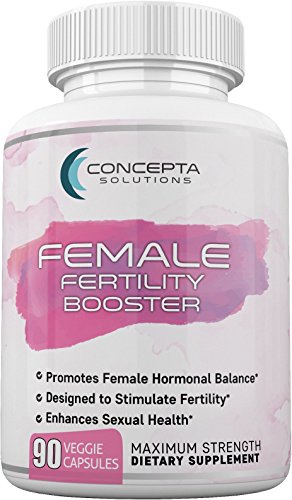 Concepta's Fertility Booster will help to stimulate & support the healthy functioning of many of the key organs and body systems that affect your hormonal aspect. When functioning in harmony with less stress, balanced cortisol, and estrogen levels, your body is better able to achieve a regular menstrual cycle and pregnancy. For thousands of years, traditional Chinese medicine and the eastern Ayurvedic healers have taken from Nature's bounty to provide body-welcome and effective solutions for infertility. Concepta Solutions has blended the most effective of those herbs with a boost of nourishing vitamins and minerals to help you maximize your potential and achieve conception.
★ THE SOLUTION HAS ARRIVED – Our leading formula decreases stress, improves ovulation, strengthens egg quality and optimizes reproductive health. Looking to enhance libido and hormonal balance? Concepta provides all natural hormone regulation, promotes ovulation & reproductive success. Our pure blend of vitamins, organic and herbal ingredients stimulates and improves your body's natural reproductive function.
★ WHY CONCEPTA – Providing you with over 1600 mg of vitamins, minerals, & organic ingredients, the ingredients in our herbal blend have been used for centuries in TCM and Ayurvedic Medicine to overcome fertility issues. We've combined Ashwagandha & Myo-inositol with folic acid to ensure maximum benefits for women with PCOS; Tribulus & Vitex to promote menstrual regularity; and Maca to produce estrogen & progesterone. Simply put, we've delivered the perfect blend for you. You're welcome.
★ BEST VALUE ON AMAZON – Get the biggest bang for your buck and start your fertility journey with a boost, with our bountiful 45-day supply! Unlike other supplements, Concepta leaves out the fillers & chemicals like magnesium stearate, using ONLY pure nutrients. We've built a proudly American company with an FDA-certified laboratory, meeting the highest cGMP industry standards. Our supplements contain an unmatched 6 week supply – so why settle for less?
★ NON-GMO & VEGAN FRIENDLY – Our herbal blend is made with proven perfected natural phytonutrients for your comfort and safety. Three months is the baseline for creating real change when it comes to hormonal issues. For best results, continue using Concepta until conception is achieved. At the same time, we encourage cutting down on processed foods and having more whole-grain products, fruits, vegetables & lean meats, which should help lower your blood glucose and normalize hormone levels.
★ 100% SATISFACTION GUARANTEED – We're so confident that Concepta's Fertility Booster will meet your satisfaction, we're talking all the risk with our Satisfaction Guarantee! Try our trusted formula for 90 days – If you're not satisfied, just let us know & you will receive a full refund, no questions asked, no hassles! What do you have to lose?