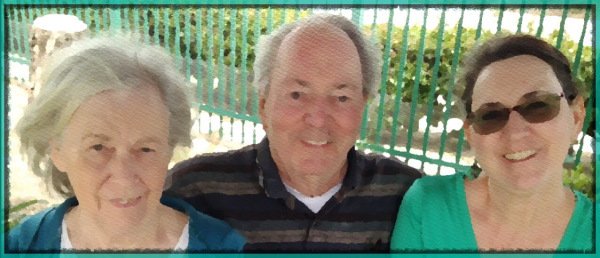 Since Thanksgiving weekend, I've been sick with an upper respiratory infection (URI). As an asthmatic, URI's tend to go to my lungs. My son, too, is sick and in bed (no way for a teenager to spend the weekend). URI's are highly contagious. We tend to share far too many illnesses in my family. Even our labradoodle Thumper is taking antibiotics for a cough.
Until my mother had a stroke November 2015, she was my father's caregiver. Since then, caregiving has become my responsibility, as now both my parents have dementia. My father has alcohol-related dementia (alcohol is a neurotoxin). My mother now has vascular dementia with behaviorial complications (brain damage can do that) and she cannot speak.
As I live with bipolar disorder while parenting an adolescent migraineur, I couldn't care for two aging parents with dementia without help, for doing so would likely put me in a psychiatric hospital. Finding long-term care that could address their needs proved challenging. For now, we've had to separate them – heartbreaking, but necessary for their health. To pay for their care, we had to sell their beloved beach house, for memory care is extremely expensive.
If my mother had more caregiving support before her stroke, perhaps she may not have had a stroke, perhaps she would have received more timely medical care. My mother was exhausted, stressed, and taking antidepressants (caregivers are at risk of depression). My father just thought that my mother was napping. His dementia interfered with his ability to respond to her stroke appropriately.
My mother, a caregiver, needed help, needed respite, needed care herself. My sister and I had been talking to our mother about downsizing and moving closer to my sister. But, my father fought the idea of moving out of their beach house, leaving our mother essentially trapped.
Thankfully they are doing well now, given their current life circumstances. Take care of yourself. Take care of your brain. Take care of your heart. Good health is a blessing.
Caregiving Resources: AARP Caregiver Resource Center
—
A version of this post was previously published on KittOMalley and is republished here with permission from the author.

—
◊♦◊
If you believe in the work we are doing here at The Good Men Project and want to join our calls on a regular basis, please join us as a Premium Member, today.
All Premium Members get to view The Good Men Project with NO ADS.
Need more info? A complete list of benefits is here.

—
Photo credit: Kitt O'Malley