Eating cooked root vegetables is a treat at the end of a long day! Along with innumerable nutritional benefits these recipes go on to offer, they also help us sleep soundly and optimize one's mood the next morning.
Women Fitness brings you five excellent recipes to try in your kitchen.
Crockpot Bulgogi Jackfruit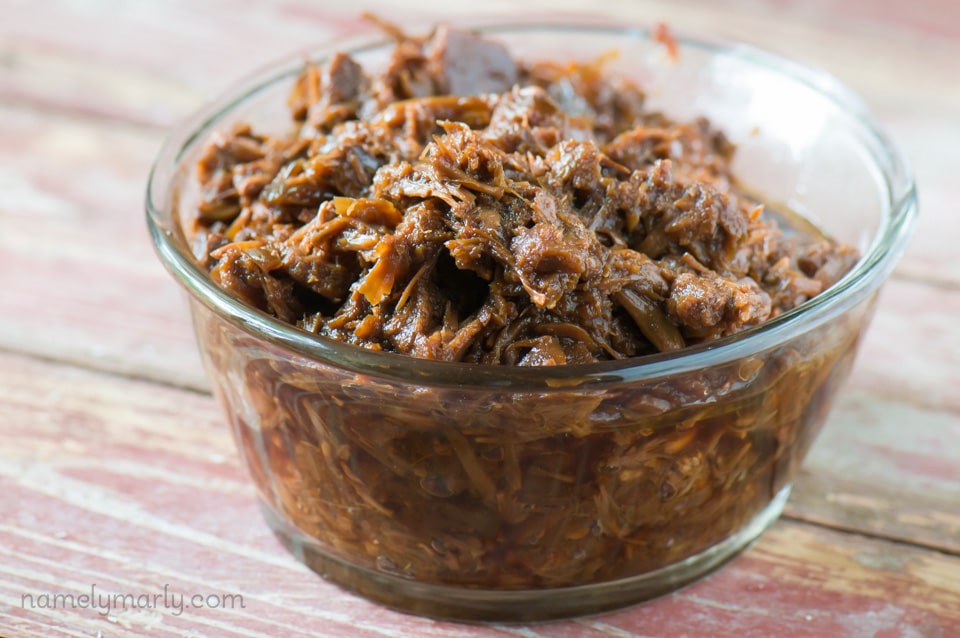 Ingredients
2 20 oz cans young green jackfruit in brine, rinsed and drained
½ cup tamari
¼ cup Bragg Liquid Aminos or soy sauce
½ cup agave nectar maple syrup, or honey
1 cup white wine or mirin
2 tablespoons fresh peeled ginger minced
8 cloves garlic peeled and chopped
1 medium onion peeled and sliced
1 green pear cored and chopped
4 tablespoons sesame oil
½ cup water
Instructions
Place the jackfruit in a crockpot. Add the remaining ingredients and stir to combine.
Cover and cook on low for 5 – 6 hours.
Turn the heat to high and cook for another hour to help absorb any remaining liquid.
Use a firm spatula to break apart the jackfruit into pieces. It should break apart easily at this point.
Alternative method: Place all ingredients in a large saucepan, bring to a boil, and then reduce to a simmer and cook for about 45 minutes to an hour, until all the liquid is absorbed, and the jackfruit is tender. You should be able to easily break apart the jackfruit into stringy pieces.
Credit: Marly McMillen, a vegan home chef, trained at Rouxbe Culinary School
Creamy Pumpkin Gnocchi with Crispy, Thick-cut Bacon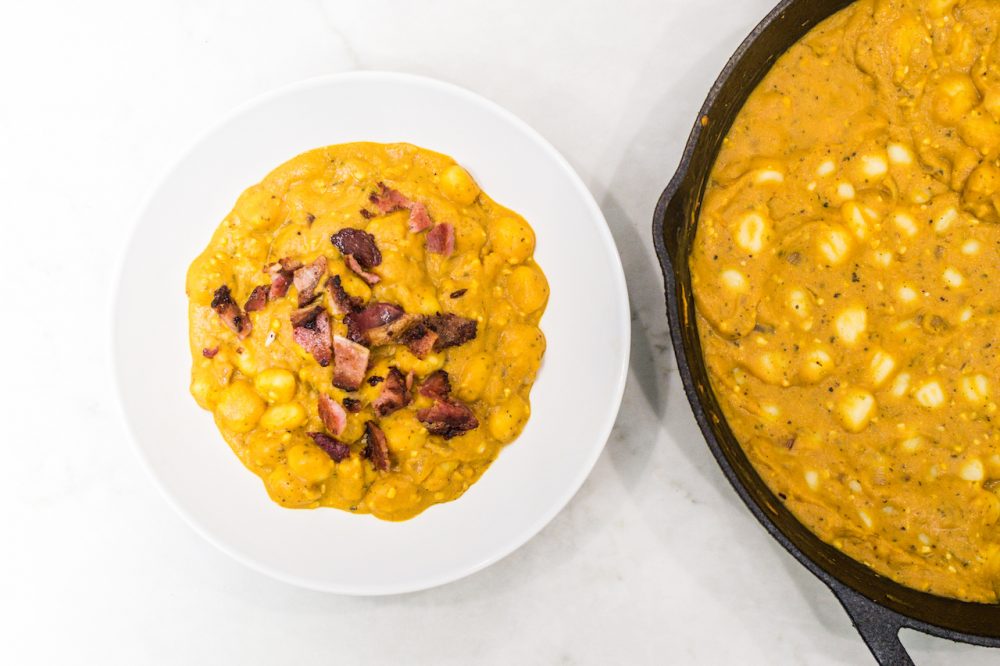 Ingredients
5 slices thick cut bacon
3-4 Tbsp oil OR bacon grease
1 onion
8 cloves garlic
1 – 15 oz can pumpkin puree
2 1/2 c almond milk
2 tsp salt
1 tsp sage
1 tsp oregano
½ tsp red pepper flakes
24 oz gnocchi
Optional: parmesan cheese and/or crispy sage for topping
Instructions
Cook bacon, reserving the bacon grease. Remove to a plate lined with paper towels to drain. When cooled, crumble or chop.
Set a pot of water on the stove to boil.
Dice onion and cook in 3-4 Tbsp bacon grease over medium heat. Cook for 5-10 minutes or until the onions are a caramelly brown color. Mince garlic and add it to the skillet with the onion cooking for just 1-2 minutes or until fragrant.
Add the pumpkin, almond milk and spices to the skillet and whisk until thoroughly combined. Simmer over medium-low heat until the gnocchi is cooked.
When the water is boiling, cook the gnocchi per package directions.
Drain the gnocchi, reserving 1-2 cups of the cooking liquid.
Add gnocchi to the skillet with the sauce and toss to coat. Add in as much of the reserved pasta water as needed to make the sauce a creamy consistency that coats the gnocchi. Add back in the chopped / crumbled bacon and serve. Top with cheese and crispy sage if desired.
For an extra crunch on top, fry the sage leaves. Add oil to a skillet to ½ inch depth. Heat the oil over medium-high heat until you can shake a few drops of water into the skillet and they sizzle and pop. Add your sage leaves to the hot oil in the skillet and allow to fry for ~1 min or until they have deepened in color, but not burned. Remove to a plate lined with a paper towel and top your gnocchi with these little crunchy flavor-bombs.
Credit: Home "Chef": Liz Alvarez with Building Our Rez