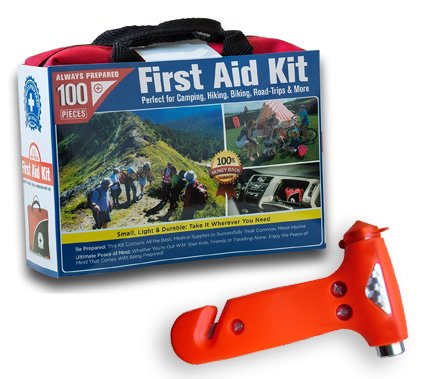 Are you fully prepared for an unexpected, real-world emergency?
"Discover How This Ultra-Light But Tough First-Aid Kit Can Give You And Your Family The Ultimate Peace Of Mind!"
Limited Time Promo: BUY 3 GET ONE FREE
Emergencies are unpredictable, and the only thing left to do is to prepare ourselves in case they show up.
"Main Features"
– Convenient in size so you can carry it with you or leave it at home, or in your car.
– Complete so you have the emergency essentials you need and want.
– Comes in a durable soft bag that doesn't break apart.
"This Is What You'll Find Inside"
Antiseptic cleansing wipes (6 pcs), Alcohol prep pad (10 pcs), Butterfly closure strips (6 pcs), Extra large adhesive bandage (4 pc), Adhesive bandages (25 pcs), Antibacterial Ointment (4 pcs) Knuckle adhesive bandage (3 pcs), Fingertip adhesive bandage (3 pcs), Gauze swab (3 pcs), 1 disposable cold compress, First aid tape (1 roll), Cotton tip applicator (10 pcs), Abdominal pad (1 pc), Disposable vinyl gloves (1 pair), Slim rescue howler whistle (1 pc), Compass (1pc), Moleskin blister relief (1 pc), Triangular bandages (1 pc), Emergency blanket (1 pc), 1 glow stick, Disposable raincoat (1 pc), Scissors (1 pc), PBT conforming bandage 5×3.6cm (1 roll), CPR facemask (1 pc), Metal tweezers (1 pc), Razor Blade (1 pc), Sewing Kit (1), Safety Pins (1), Sting Relief Pads (4)
Emergency Auto Escape Tool (seat belt cutter/window breaker) Now Included as a free bonus! (.99 value)
"Lifetime Guarantee"
In the unlikely event you don't like this First-Aid kit, simply contact Always Prepared for a 100% refund, no questions asked.
"But You Need To Buy Now"
As great reviews keep coming in on these kits, the kits are selling out fast and we'll soon have to raise the price or run out of stock!
Click "Add to Cart" Now!
BUY 3 GET 1 FREE: For a limited time only when you add to cart 3 first aid kits, you'll get one free as a way to say thank you for your business and happy new year!
BONUS EMERGENCY AUTO ESCAPE TOOL INCLUDED! (.99 Value) Every Vehicle Needs One of These in the Glove Box or Center Console – It Can be the Difference Between Life & Death for You and/or Your Loved Ones! Use it to Quickly Cut Your Seatbelt and Break the Window to Escape Vehicle Quickly During an Emergency.
Be Prepared In Case Of Disasters Like Earthquakes And Other Real-World Survival Situations. We have emergency supplies that NO OTHER FIRST AID KIT that's the same size as ours has! Excellent for road trips, hiking, backpacking, camping, RVs, the office, school and home. Unique accessories give you a fighting chance in situations both indoors and outdoors.
Durable, Light Weight & Efficient (Weighing Only 1.1 Pounds And Is 7.5x2x5.1″). Perfect for a starter first aid kit or a medical professional who needs something versatile and portable.
Produced With High Quality Standards in a FDA Approved facility and Comes With our Famous "Always Prepared®" Easy-To-Claim Lifetime Guarantee.