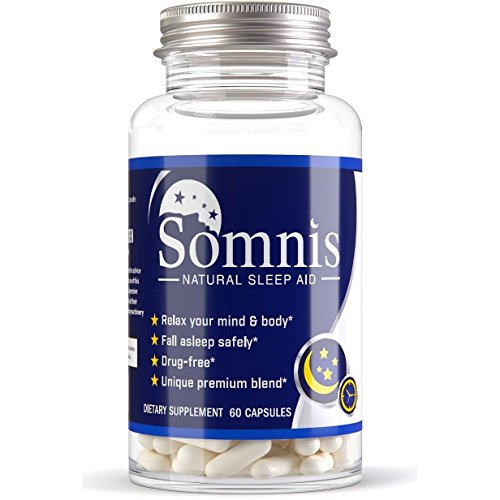 The Ultimate All-Natural Sleep Aid For Better Sleep
Do you suffer from insomnia? Is it seemingly impossible for you to get a good night's sleep?
If so, then you need to try all-natural Somnis – the ultimate sleep aid! Somnis contains proven ingredients like melatonin, L-Tryptophan, and GABA to help you fall asleep faster AND stay asleep.
It is also all natural, drug-free, and non-habit forming, which means you can take it whenever you need to without feeling any side effects.
Want to sleep longer? Want to wake up feeling refreshed and energized?
Somnis has the essential ingredient a healthy sleep cycle would require to feel fully rested and energized in the morning. Don't be a victim to insomnia and get the best relief to your sleeping problems with Somnis – the safe, all natural, and proven sleep aid!
☆ A BETTER NIGHT'S SLEEP. Somnis all natural sleep aid promotes calming, reducing the time to fall asleep, supports deeper and longer sleep, fights morning grogginess, and will have you feeling energized and refreshed when you wake up.
☆ NATURAL INGREDIENTS: We made Somnis with a premium blend of proven & natural ingredients including: Melatonin, Gaba, L-Tryptophan, and Vitamin B-6 which help you fall asleep easier and wake up feeling ready to go!
☆ SAFE & NON-HABIT FORMING: Somnis contains natural, premium, ingredients that are safe and non-habit forming.
☆ 100% GUARANTEE: We know you'll love Somnis so much we offer a 100% money back guarantee. If you're not happy, let us know and we will refund you.
☆ MADE IN USA: Somnis is drug-free and manufactured under the careful supervision of a FDA registered facility in California, USA.