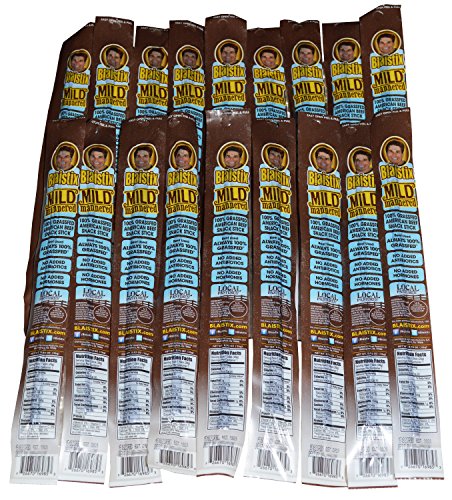 NEVER FORGET – No Farmers, No Food!
The ONLY Non-GMO domestic Grass Fed Beef born and bred in the USA.
If you believe in 'Buy American' then you must 'Buy BLAISTIX'.
No artificial ingredients, flavors or fillers make BLAISTIX the jerky snack stick difference maker
The leaner the beef (mine is 92% lean) the higher the protein content. BLAISTIX have more than 5g of protein.
I am not willing to sacrifice taste and texture or add potential allergens to artificially boost protein
Local Pastures makes BLAISTIX and markets BLAISTIX with just the facts. No scurrilous claims, no inflated benefits. The label says it all, except BLAISTIX are gluten free, too.
SATISFACTION GUARANTEED! – If you are disappointed in your BLAISTIX experience, let me know. If the BLAISTIX experience lives up to your expectations, I'd like to hear about that, too. I do my best to source high quality grass fed domestic beef and BLAISTIX are made by the best stick maker in the country. In the end, though, you are my only gauge. I appreciate your help.
More Information
I run Local Pastures, a small business with big dreams. I am NOT trying to duplicated a Slim Jim. If you want a Slim Jim, buy a Slim Jim. I offer you a highly seasoned grass fed domestic beef snack stick that, when purchased by you, effectively supports grass fed cattle farmers around the country. This is the best way to help the environment and enjoy jerky at the same time.
Lastly, I use 2 times the amount of seasoning in BLAISTIX than all of my competitors. So many brands have different flavors, but they all end up tasting the same. So I love the reviews that claim BLAISTIX are bland. LOL. Perhaps to that particular customer, but if I were to add any more seasoning, customers would be complaining 'Where's the beef?"
Blaise
Made with Pure Non-GMO lean high protein paleo friendly American Grass Fed Beef
No Dairy Soy MSG Nitrates Nitrites High Fructose Corn Syrup. Only 1g natural sugar and 2g fat
The only snack stick made with grass fed beef exclusively produced in the United States. All other brands use imported beef.
Wholesome grass and hay diet without added big pharma antibiotics or synthetic hormones
Satisfaction guaranteed! See below for more details.