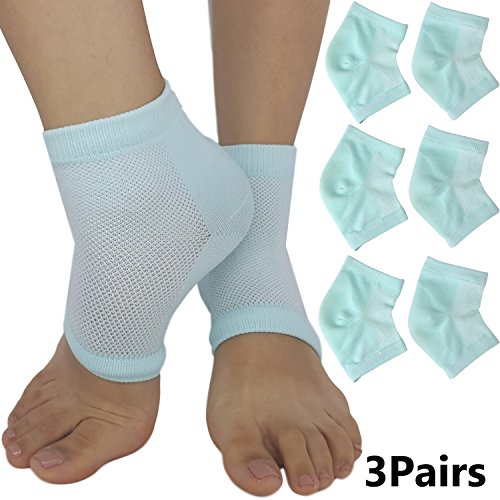 Do You Suffer from Dry, Cracked, Ugly, Painful Heels or Feet?
No More Terrible Disgustingly Dry Feet and Heels
You've Just Discovered YOUR DREAM SOLUTION!!
These Unique Armstrong Amerika Moisturizing Socks Contain a Special Blend of Vitamin E, Grape Seed Oil Jojoba Oil, Olive Oil, Avocado and Canola Oils
To Bring You Heels Back to Life
Why You Will Love Them
– Fast and Effective Results You Can See
– So Simple, Works While You're Sleeping
– Intense Moisturizing for the Most 'Rock Hard' Heels
– Comfortable, Light-Weight, Breathable, Stretchy, Open-toe
– Extremely Durable, Washable for Reuse
– Smell Great & Feel the Best
– Wear During the Day or Night For Added Protection
Make the Smart Decision ADD TO CART Before You Miss Our Discounted Price
**SUPER VALUE PACK, 3 PAIRS – WOW**
How to Use and Bonus Tips:
Step 1 Soak or Wash Feet in Warm Water
Step 2 Dry Feet Gently
Step 3 Wear Armstrong Amerika Heel Socks
BONUS TIPS:
Boost the skin-softening by applying your favorite foot cream or balm before slipping on your Armstrong Amerika heel socks
For best results wear at 3 nights a week. For Amazing Results Wear them 4+ nights
"I Don't Know How I Ever Lived Without Them" – Joan CA
TRY TODAY, RISK FREE! WE BACK IT UP!
100% Money Back Armstrong Amerika Warranty, If You Aren't Amazed By These
ADD to CART With Total Confidence
Get Back To Living Your Life to The Fullest, With Family & Friends
Size:
-One Size Fits Most
-Comfortably Fit a Normal Men's Size 11 and Below
Sock Care:
-Delicate cycle wash or hand wash & air-dry
-Water temperature should not exceed 30℃ or 65 to 85F
*Note – Due to Wholesale Orders (SAVE EXTRA 20%) We Often Sell Out.
Please See All Armstrong Amerika's Pain Relief Products & Promotion Details to SAVE
GET SILKY SOFT HEELS Repair Your Sore Cracked Heel the Easy Way. Say "No More" to Ugly Cracking or Painful Feet. Keep Your Feet Looking Youthful, Soft and Beautiful So You Can Wear Sandals, Open Shoes or Go Barefoot Again Without the Embarrassment
COMFORTABLE and BREATHABLE Open Toe Design and Air Flow Ventilation Mesh Makes these your Comfy Choice. Wear in Bed while sleeping and Wake with Smoother Moisturized Heels and Feet. Wear All Day With Added Gel Heel Cup Protection for Hurting Cracks and Splits
LOTION INFUSED TECHNOLOGY Deep Intense Moisturizer That Will Soothe Your Aching Heels with a Rich Blend of Vitamin E, Minerals and Oils Plus Gel Padded Cushion to Reduce Pain and Care for Your Skin at the Same Time
BEST VALUE 3 Pairs in a Value Pack. Made with Premium Materials so you can Hand Wash and Re-Use These for Weeks on End
ARMSTRONG AMERIKA GUARANTEE or YOUR MONEY BACK, 3 Pairs, One Size Fits Most (Under Mens US Size 12) UNISEX Anti-Odor, Non-Toxic, Premium Grade Silicone