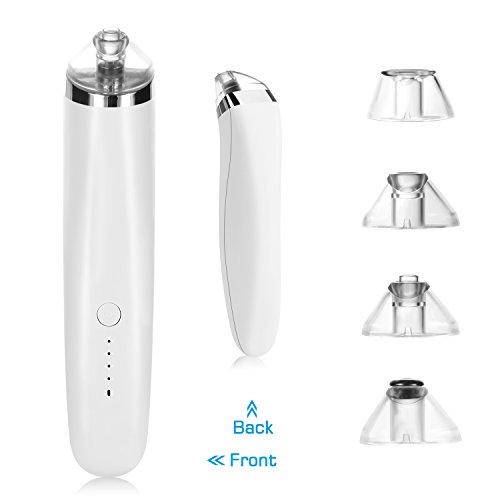 4 TYPES OF SUCTION HEADS:
Large Circular Hole – Eliminate blackheads and acnes efficiently
Small Circular Hole – Cleaner and more careful
Elliptical Hole – Make the skin more elastic and compact
Micro-crystal Hole – Exfoliate keratin and dead skin, desalt scar
FOR CHARGING:
1. The product can be charged for 8 hours at most.
2. When being charging, the red light keeps on.
3. When the charging process is completed, the red light will turn into green.
4. When the battery drain out, the red and green light will blink for 10 seconds and die out automatically.
HIGHLY ATTENTION:
1. Please do not use it if your skin is broken and damaged now, it's not a good time.
2. Advise to use it twice a week, and please do not use it more than 5 minutes each time, overuse will may cause damage to your skin.
3. Please try to open your nose pores with hot towel, or steam before use it, so that it's convenient to adsorb the blackheads. And it's also necessary to use makeup that close the pores when you finish your skin SPA at home.
4. When using it, it's better to move suction head contrary to the direction of pores growth, think about how to clean your face with facial cleanser. The nose's pores are up, so move the device from top to down will easy to remove the blackheads.
5. Periodic replacement the filter cotton core, it's good for device maintenance and personal hygiene.
4 ADJUSTABLE SUCTION FORCE WITH ONE BUTTON DESIGN – Vacuum physical suction design(vacuum absorption technique) from level1 to level4 suction force, the max suction strength is up to 65kpa, the gentle suction strength is suitable for sensitive skin. One-click design to change the force and long press to shut down the device.
4 REPLACEABLE SUCTION HEADS FOR DIFFERENT SKIN CONDITIONS – To be your professional home SPA skin care tool, there have four functional suckers for different skin conditions with different suction heads and force to achieve the best results. Cleans up the blackhead, removes dirt grease inside pores, reduces dead skin and fine lines, massage and tighten the skin.
3 STEPS TO USE BUT SKILLS REQUIRED – Before to use it, please try to open your nose's pores with hot towel or steam; With reasonable suction level, do not suck in a fixed place, you have to move the suction head from the top to down(contrary to the direction of pores growth) and do not move back and forth, just moving in one direction; Please use the makeup that close the pores after you finish this pores spa. Above is a complete process to treat your blackheads pores well.
BUILT-IN 450mAh BATTERY, SUPOORT CONTINUE TO USE FOR MONTH – With USB charging, 30 to 60 minutes can be full charge. Advise to use it twice a week, and less than 5 mins(around 3 mins is the best), easy to carry for your home skincare, travels, activities.
ATTENTION – Any quality problems, please feel freely to contact us!