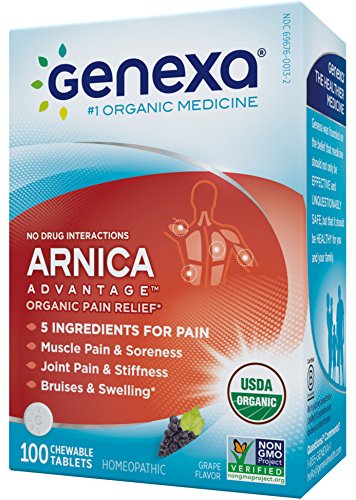 Genexa Arnica Pain Relief: Certified Organic, Homeopathic, Physician Formulated, Natural, Non-GMO Verified. Pain Reliever for Muscle, Joint & Back Pain, Swelling, Bruising (100 Chewable Tablets)
COMPLETE PAIN RELIEF: Helps to effectively treat back pain, joint pain, muscle pain, as well as soreness and stiffness, and bruises and swelling.
THE ONLY CERTIFIED ORGANIC AND NON-GMO ARNICA PAIN MEDICINE: Genexa has created the world's first and only Certified Organic and Non-GMO Verified arnica medicine. Certified Organic ingredients are purer, cleaner and healthier with less harsh fillers. Our medicine is healthier so you can be too.
100% MONEY BACK GUARANTEE: If you are not 100% satisfied with this product, for ANY reason, simply call or email Genexa directly for a full refund.
PHYSICIAN FORMULATED & PRODUCED IN THE USA: Genexa medicines are safe and non-habit forming, and are exclusively formulated by its Chief Medical Officer and medical team. All Genexa products are produced in the USA using the world's finest Certified Organic and Non-GMO ingredients. Genexa Stress Relief complies with the FDA's Good Manufacturing Practices for the production of homeopathic medicine.
NATURAL, NON-HABIT FORMING: Genexa Arnica Advantage is safe and has no drug interactions.