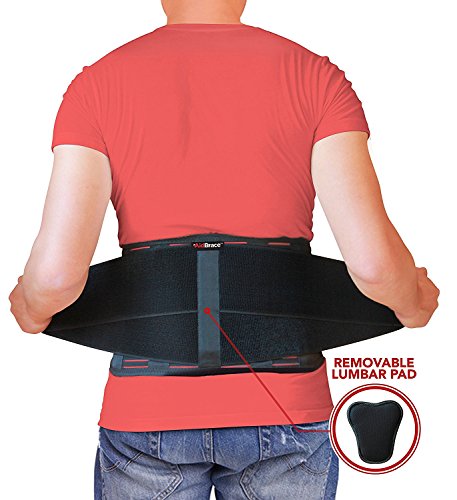 Do you suffer from lower back pain? Engage in a great deal of physical activities at work or at home? Lift and move heavy objects? Spend long hours sitting with limited movement?
It is important to have one of our AidBrace Back Support Belt to aid in your daily activities because….
1. Provides ultimate support to your lower back, abdomen and hip area to help provide relief of lower back pain
2. The design of the belt allows comfort and easily conforms to your daily activities
3. Easy to clean: gently wash with water and mild detergent
4. It helps to form correct posture and avoid back injures while working or lifting heavy loads, relieving stress on the lower back
Sizes:
Width measures 8.7″ or 22cm for all sizes.
Length (we suggest to start the measurement at the belly button)
S/M: (belly: 26 – 36″)
L/XL: (belly: 37 – 47″)
2XL/3XL: (belly: 48 – 58″)
IMPORTANT: Our belts must be stretched when putting them on. If you don't stretch the belt while wrapping it around it will be too small and not provide the proper support.
Add to cart NOW to help relieve your back pain
**IMPROVED VERSION & UPGRADED VELCRO** – Check Sizing Chart on 2nd Image and Choose Proper Size in Drop Down Menu (Measure your Belly, not Your Waist Size)
Unique Removable Cushioned Lumbar Pad for Additional Support
Breathable Vented Mesh Backing and Double Side Straps for Tighter Tension Adjustment
Curved Side Design to Provide the Best Comfort and Less Pressure in the Abdominal Areas
Industrial Durability Made with Premium Materials for Years of Support